Your company event at the Pichmännel Oktoberfest!
26.09. – 12.10.2024
Your team has achieved great things - time for a big thank you!
What is there to celebrate in your company? A successful business year? An anniversary? Or simply the best team of all? Take a break together and say thank you with a big bash. You have earned it! Why not also as an early Christmas party?

The somewhat different Oktoberfest for you and your guests.
At the Pichmännel Oktoberfest in the marquee at the Dresden exhibition grounds, everything is a little different and therefore a real original - packed with a lot of sax appeal: Pichmännel Festbier from Dresden's traditional Feldschlößchen brewery is foaming in the stein, the chicken is called Goldbroiler and the handsome "Buam" and "Madl" are you - because dirndl and lederhosen are part of the proper dress code.

And the party goes off!
Apropos zünftig: Our professional show bands don't need long to get the air in the tent boiling. Hold on to your masquerade mugs, because soon there will be dancing at the tables and on the benches and the first polonaises will move as caravans through the uniquely decorated marquee. Who grabs whose shoulder from behind? It doesn't matter - everyone is having fun, and what counts today is good humor, a sense of rhythm, and the ability to follow the lyrics.
Teambuilding with fun factor
Who beats the boss in masquerade? Who can hit Lukas the hardest? Who will show their colleagues how it's done in arm wrestling and who can hang on to the Stanglwirt the longest? The entertainment offers in the marquee are team building with fun factor. Throwing cans, shooting at the shooting gallery and on the Ferris wheel will turn your party into a company folk festival.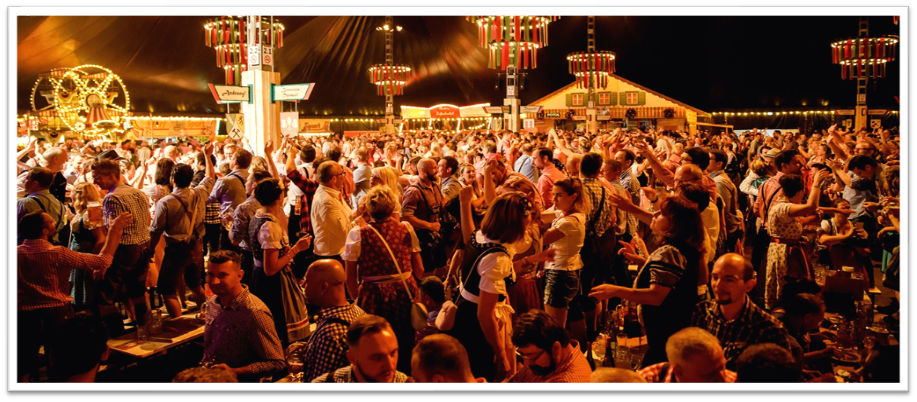 The party will be huge - the budget manageable!
The Pichmännel festival tent is designed for up to 3,400 people who love to swing and celebrate. But even if you can't fill it all by yourself, you'll feel like the center of attention on your festive day, because we offer you and your team an exclusive VIP service:
individual company events already from 200 guests
from 1,500 guests you have the tent to yourself (max. 3,400 guests)
admission already one hour before the official opening of the tent
individual greeting of your staff and moderation tailored to your event
Animation program and entertainment included
choice of different menus - served at the table: from hearty to noble and exclusive
optional: drink and entertainment vouchers for your guests
Request a personalized offer for the celebration of your corporate life now!
From 26 September to 12 October everything is ready:
Let's talk about dates.
A typical day of festivities in the Pichmännel festival tent begins at 5:00 p.m. with admission and the first round of welcomes and ends only around 11:30 p.m. with the Kehraus after exuberant Wiesn fun. For you we add another hour. Thanks to advance admission and individual moderation, the tent is already yours from 16.00!

All the fun - first come, first served:

Would you like to have your own separate area in the tent with your staff and/or colleagues (200 people or more) - with advance admission, individual welcome and moderation and exclusive service? Request your desired day between September 26 and October 12 now and receive an individual offer. (Availability depends on capacity and possible exclusive bookings)

The whole tent - your own company wiesn:

You have something really big in mind and would like to exclusively rent the marquee for your individual company Oktoberfest? From 1,500 participants, it's yours.

Animation & entertainment all evening! Individually or as a competition, all attractions can be used, e.g. Maßkrugstemmen, shooting gallery, polonaise, Ferris wheel ride, photo box, arm wrestling, Maßkrugschiebebahn, Hau den Lukas, etc.

Hall plan and possible dates: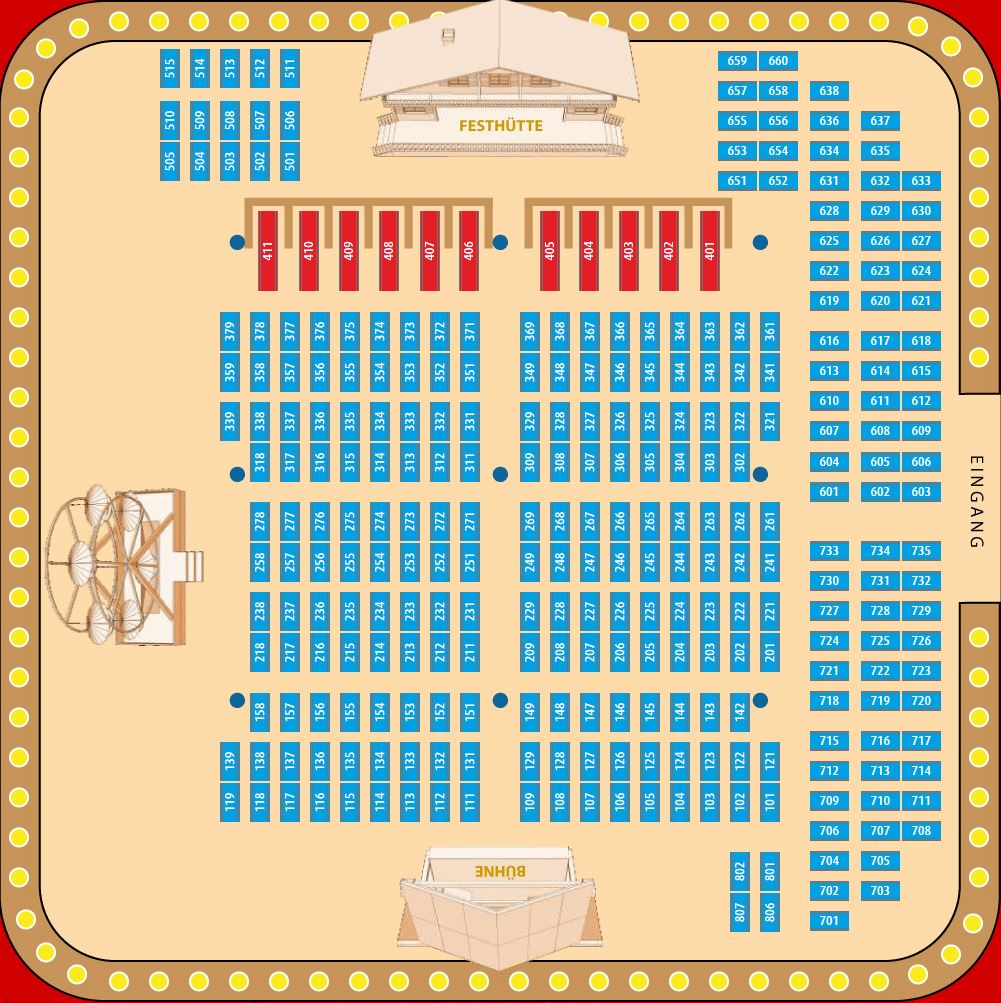 exclusive marquee booking 1.500 - 3.400 guests*:
29.09.2024
30.09.2024
01.10.2024
03.10.2024
06.10.2024
07.10.2024
08.10.2024
09.10.2024
10.10.2024
during the event days 200 - 1,500 guests*
26.09.2024
29.09.2024
30.09.2024
01.10.2024
03.10.2024
06.10.2024
07.10.2024
08.10.2024
09.10.2024
10.10.2024
* No allotments on Fridays, Saturdays, pre-holidays, exclusive bookings for entire marquee available upon request until official pre-sale begins. Date availability provided.
Cost offer per person (from 200 persons, all prices incl. VAT)
Ticket price from 20,00 € (when booking tables of 10)
menu from 34,50 €
optional beverage voucher from 11,90 €
optional "animation voucher" from 6,00 € (redeemable for all play & fairground attractions)
For an individual offer we are at your disposal at any time.
Please let us know your desired date and the number of employees.
Contact
Pack mer's: Request an appointment, get a quote, book and celebrate:

Organizer: Feldschlösschen Vertriebsgesellschaft mbH
Cunnersdorfer Str. 25, 01189 Dresden, Germany

Contact: Frank Haase, Head of Marketing/PR-Event Management

vorverkauf@pichmaennel-oktoberfest.de